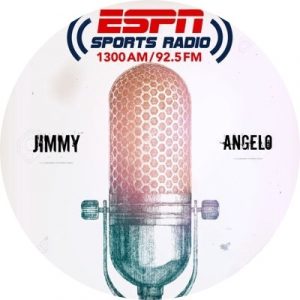 Jimmy & Angelo
Jimmy & Angelo 2-2-2020
Do You Want to Talk About Kentucky Basketball's Loss to Auburn? Because We Don't (But We Do)
Then, Jimmy Turns The Football Power Hour Into An Hour and A Half, Because It's Super Bowl Sunday!]
---
TOP 10 OF THE 2010's PODCAST SERIES- EPISODE 1
TOP 10 UNIVERSITY OF KENTUCKY FOOTBALL PLAYERS FROM 2010-2019
---
Jimmy & Angelo 12/8/19
Conference Championship Saturday: Burrow's Heisman, Oklahoma's Resume, & Our Predictions For The Top 4
NFL Top 100 List: It's Wrong, We Tell You Why
Angelo Unveils His Solution To The College Football Playoff: The Reason Why 16 Teams Is The Perfect Number
---
Jimmy & Angelo 11/24/19
Is Eddie Gran Good?  Plus Mark Stoops To Florida State Won't Go Away
#KentuckyProud Players Of The Week
NFL Picks & Fantasy Advice
WWE Survivor Series & NXT Takeover Talk With Trey Carney
---
Jimmy & Angelo 11/17/19
Kentucky Basketball, Kentucky Football, & #KentuckyProud, Oh My!
Tua's Injury & Heisman Talk
Myles Garrett & Colin Kaepernick, Plus Our NFL Picks
---
Jimmy & Angelo 11/10/19
UK vs Tennessee: A Review Of The Game And Why It Makes Angelo So Furious, Plus Additional CFB Playoff/Heisman/Top 25 Talk
#KentuckyProud Debuts
Tyler Dragon Joins Us As We Talk Tua, Burrow, And Other Players Cincinnati Should Target In The NFL Draft
---
Tyler Dragon: Cincinnati Bengals Quarter-Season Review
---
Jimmy & Angelo 10/6/19
UK Basketball Media Day
Walk-er The Line
Tyler Dragon from The Inquirer Joined The Show To Talk Bengals AND We Have Some Fun And Test His Cincinnati Knowledge With Cincinnati Trivia!
And Of Course, Our Week 5 NFL Picks!
---
Jimmy & Angelo 9/22/19
Kentucky Defeated In Battle Of Backup QBs vs. Mississippi State
Week 4 College Football Review, MLB Playoff Chase, Quick Hits
Antonio Brown Retires??!  Plus Week 3 NFL Picks & Fantasy Football Advice
---
Jimmy & Angelo 9/8/19
Kentucky defeats Eastern Michigan, But Loses Terry Wilson
Heisman Talk: Is Jalen Hurts The Favorite?
NFL POWER HOUR: AB To New England, Fantasy Bets, And Our Picks For NFL's Week One
---
Jimmy & Angelo 9/1/19
Kentucky Toasts Toledo 38-24; Recap and Top 5 Players of the Game
SEC-Ya Next Week?  Tennessee, Missouri, and South Carolina Get Upset.
Jerry Jeudy: Best Receiver in CFB History?  Angelo Thinks So…
Houston "Trashcans" and NFL Predictions
---
Jimmy & Angelo 8/18/19
De'Aaron and Team USA
Our TOP 10 College football players for 2019
MLB playoff talk
Should there be a salary cap in the NFL??
Getting you ready for the FANTASY FOOTBALL EXTRAVAGANZA on 8/25
---
Jimmy & Angelo – Tyler Dragon Interview 8/4/19
We were joined by Tyler Dragon of the Cincinnati Inquirer, you can follow him @TheTylerDragon on Twitter. We talked about the first week of Bengals camp, the AJ Green injury, and his journey as a reporter and the places he has been that ultimately brought him to Cincinnati to be the Bengals reporter this year!
---